The History of Photo Equip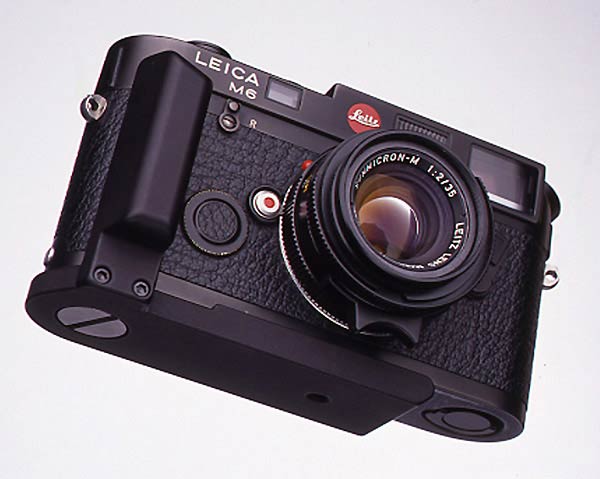 From an idea, to GMP Products, to Photo Equip and the present
What would eventually become Photo Equip began as a collaboration of a group of Minneapolis professional photographers. In the spring of 1989 Michal Daniel showed Larry Marcus an accessory grip for the Minolta CLE that he had found to add to his collection of rare and unique camera equipment. Both thought that a similar item for the Leica rangefinder series was a wonderful idea, and Michal had a local artisan fabricate one. Upon seeing it, another photographer Gerald Gustafson suggested that a mutual friend, and Aerospace Engineer, Eric Paulsen could improve on it and see to some being manufactured for the group. After several of Eric's prototypes were evaluated and refined, a design was finally agreed upon. Once Gustafson and Marcus were able to convince a dubious Paulsen that they could find a home for the minimum batch of twenty required in order to make manufacture economically justifiable, GMP Products (the first letters of their respective last names) was formed!
In a surprisingly short time those first 20 examples of what was to become known as "The Original GMP M-Grip" were sold via word of mouth to local Leica owners, and some made their way as far as New York City and the eyes of the camera store buyers. Ken Hansen Photographic placed the first of what was to become a great many wholesale orders. Things really accelerated when American Photo, and other magazines, featured an M-Grip in their new products sections, and wholesale accounts were established throughout the world. Even Leica Camera SARL, of France was a distributor. For their second order they requested the special engraving "M-Grip made par GMP for Leica Camera". Leica put a quick halt to this, but Leica collectors might be interested to know there are only 50 M-Grips so marked in the world!
The first knowledge that they had struck a nerve at Leica was when some of their engineers approached Larry Marcus at the New York Camera Show, and later bought two M-Grips for analysis. As everyone is aware, they have since come out with there own plastic version, the Handgrip M.
With the passage of time the R-Grip for the Leica SLR family was a natural addition, as was creating the F-Grip for the ever popular Nikon FM/FE Series. The NF-Grip to fit the Nikon F2/F3 and the G1-Grip for the Canon G1 Digital were also added; as well as the versatile UniGrip to fit a wide range of Gripless SLR's. The transition to using carbon fiber composite handles was made as well, at which time the venerable M-Grip's name changed to LM-Grip, the R-Grip to LR-Grip, and the F-Grip to FM-Grip.
At the close of 1997 GMP Products Inc. passed manufacturing and sales activities over to Eric Paulsen's company Photo Equip, but nothing really changed, as all the same parties remained involved.
The first addition to the Leica line of accessories to carry the name Photo Equip was FilterView, providing Leica M-Series and other rangefinder users with a real time look at the effect they were achieving with Polarizing or other filters. Consisting of a multi-windowed front element into which a 77mm filter is threaded, FilterView screws directly into any lens having 60mm filter threads. A unique elastomeric ring assures one of the see-thru windows is properly positioned in the lower right hand corner of the viewfinder once the threads have pulled up snug. Adapters are included to attach it to 55mm, 49mm, 46mm, and 39mm filter thread lenses. Other adapters can of course be used, if needed.
The next new product resulted from Leica M2, M3 and MP owners disappointment with the design and price of the rewind crank introduced by Leica. This motivated Photo Equip to create the MP-Winder. Exquisitely made, and faithfully following the shape of the camera body, its most significant feature is the Poly Plug in front of the setscrew, preventing it from marring the knurl on the rewind knob.
A common subject of thought over the years was what would constitute the ultimate Leica hand grip. Issues such as better camera fit and protection, increased user comfort, monolithic metal structure, and more utility were considered. The exquisite ML-Grip is the fruition of this effort. Shaped to fit and blend with the camera body beautifully, unique in having a full length velvet covered base, with a soft rubber insert inlayed into the handle, machined from a solid billet of aluminum, and including a compartment to store a spare light meter battery or two, it is unquestionably the finest accessory grip ever made for the Leica M-Series cameras.
Although Gerald Gustafson passed away suddenly in January of 2002, Larry Marcus is still very involved in Photo Equip's mission of continuing to make this family of fine accessories available through dealers the world over, and via its web site www.photoequip.net.
Eric Paulsen,
Photo Equip